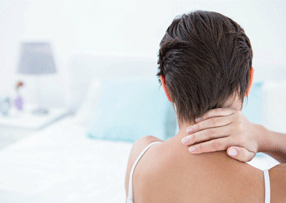 When it comes to neck pain, prevention is better than a cure. It's true that some causes of neck pain, such as age-related wear and tear, are not under your control. On the other hand, there are many things you can do to minimize your risk. One place to start is to look at how you sleep and what effect this may have on neck pain.
There are two sleeping positions that are easiest on the neck: on your side or on your back. If you sleep on your back, choose a rounded pillow to support the natural curve of your neck, with a flatter pillow cushioning your head. This can be achieved by tucking a small neck roll into the pillowcase of a flatter, softer pillow, or by using a special pillow that has a built-in neck support with an indentation for the head to rest in.
Here are some additional tips for side- and back-sleepers:
Try using a feather pillow, which easily conforms to the shape of the neck.
Another option is a traditionally shaped pillow with "memory foam" that conforms to the contour of your head and neck.
Avoid using too high or stiff a pillow.
If you sleep on your side, keep your spine straight by using a pillow that is higher under your neck than your head.
Read the whole article: CLICK HERE